Regular price
Sale price
$10.00 USD
Unit price
per
Sale
Sold out
Many of the inhabitants of the Underdark have evolved to see without light, but no Underdark denizen sees more keenly than the drow.  This wicked race of dark elves possesses the ability to see as clearly in pitch darkness as most surface dwellers see in daylight.  Now, with this set of dice, you can get a glimpse of what that's like.
Drow Darkvision is a 7-piece polyhedral dice set that GLOWS IN THE DARK!  It's perfect for use in tabletop RPGs like Dungeons & Dragons and Pathfinder.  The dice are an alluring blend of purple and blue, reminiscent of the eye color of one of the most famous Drow heroes to ever walk the land.  Numbers are painted in black.  The quantities and sizes are as follows:

-1 d4 (16mm)
-1 d6 (16mm)
-1 d8 (16mm)
-1 d10 (16mm)
-1 d00 (16mm)
-1 d12 (18mm)
-1 d20 (20mm)
Share
View full details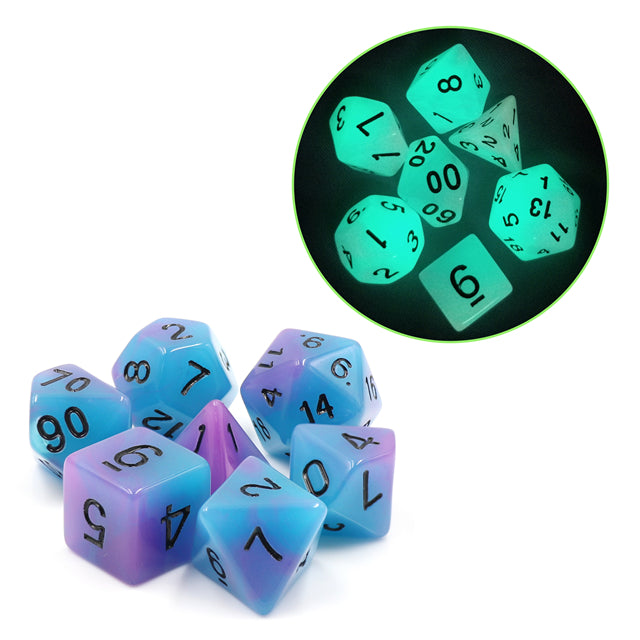 Incredible.
Not only were these dice amazing looking, I got a HAND. WRITTEN. NOTE. 10/10 this site is amazing.
Good stuff!!
All good things. Great dice. Good people.
Good Quality, they really glow!
These dice are good quality! Nice weight, and they really glow in the dark! Thanks Dice King!