Regular price
Sale price
$10.00 USD
Unit price
per
Sale
Sold out
Merfolk are known for their skill in domesticating aquatic creatures, with some of the most common pet species being giant seahorses (serving as steeds) and barracudas (trained as watchdogs).  A rarer pairing, which primarily occurs in temperate waters, is the symbiotic relationship between mermaids and sea cows.  The cows (also known as manatee and dugong) are famous for their mental torpor--they're always getting run over by boats or hunted by cowardly whalers.  The mermaids guide them to safe kelp meadows and watch over them, protecting them from the minor dangers that so often prove their downfall.  In exchange, the mermaids claim a small quantity of the sea cows' milk, which is refined into dairy products such as cream and cheese.
MerMilkMaid is a 7-piece polyhedral dice set perfect for use in tabletop RPGs like Dungeons & Dragons and Pathfinder.  The dice are an alluring blend of aquamarine and milky white.  Numbers are painted in gold.  The quantities and sizes are as follows:
-1 d4 (16mm)
-1 d6 (16mm)
-1 d8 (16mm)
-1 d10 (16mm)
-1 d00 (16mm)
-1 d12 (18mm)
-1 d20 (20mm)
Share
View full details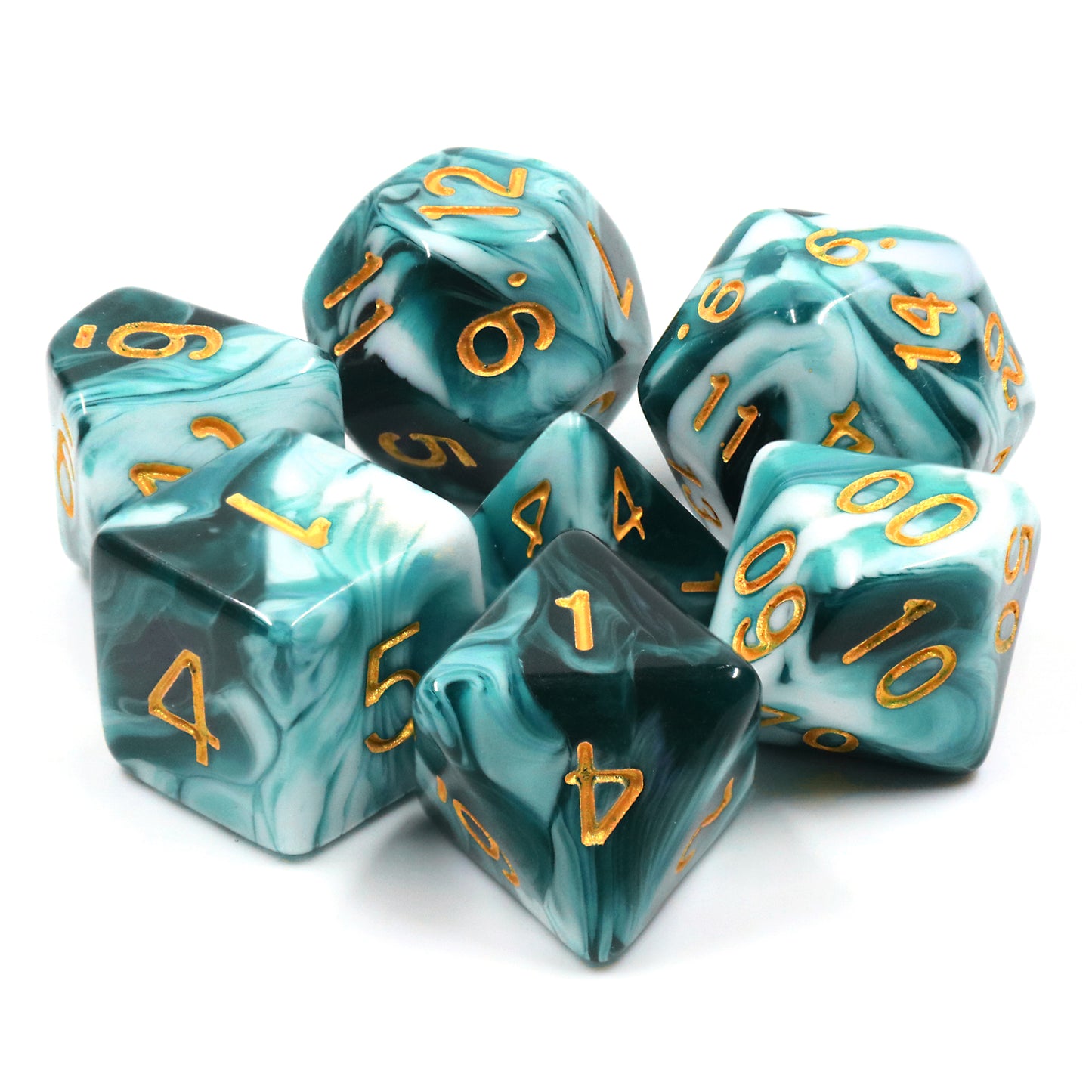 Completely worth it.
I ordered five sets, and not a one disappointed me, each set is smooth, clean and well made. Nice bag for each set, packaged well and arrived without a problem. Its not a question of if, but when I decide to buy more dice, I plan to buy them here.